Ballantyne Limos – Lincoln Limos, Hummer Limos, Chauffeured.
We provide reliable and cost efficient luxury airport transportation. We take great pride in serving Charlotteans and their guests with prompt, reliable, and courteous service. We accept advance reservations as well as same day orders. Our Chauffer's Will Be All Ways  On Time  .Our fleet carries Charlotte Airport and CLT curbside pick up permits. So, as long as you reserve a Limo for your arrival into Charlotte Airport or CLT, we will pick you up in front of your terminal.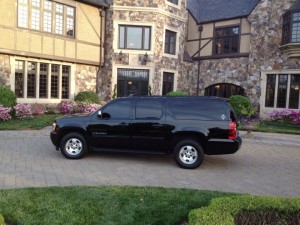 Our chauffeurs are instructed to provide more than just transportation services on your wedding day. Instead, they're your assistants, and they're here to take care of whatever last-minute needs may pop up. Forgot something at home? They'll retrieve it for you. Need to get your gifts safely from the reception hall to the limo? They'll take care of that. Thirsty? They'll provide a refreshing bottle of ice cold water for you. Ballantyne Limousine Service  knows that a lot of little things can happen unexpectedly, and that's why our chauffeurs do more than just transport you from the venue to the airport. They have been trained in the details of wedding logistics, and they're ready to be a bridal concierge when you need them. In addition to being the premier Charlotte Limo provider, Ballantyne Chauffeured Transportation also offers Airport Transportation for individuals, families and small to large corporate groups. Airport travelers know that every airport is unique.  Airport travelers also know that flying can be very stressful; from driving to the airport, finding a parking place, carrying your luggage to baggage check, making sure to arrive on time to not miss your flight, then looking for your vehicle when you return.  Ballantyne Chauffeured Transportation can assist you with all of these things and help make your Charlotte Airport Transportation Service and Charlotte Airport Shuttles much less stressful.   We offer Airport Transportation Service to Charlotte Douglas International Airport that you can depend on to deliver you to the airport on time each and every time.  Ballantyne Chauffeured Transportation chauffeurs are trained to maintain intimate familiarity with the layout, logistical details and surrounding traffic patterns of Charlotte Douglas International Airport and other airports they serve.   Additionally, the chauffeur stays in constant cell phone and email contact – eliminating every potential problem associated with getting you to your flight. Save time and work while we transfer you to and from the Charlotte airport.  You do not have to worry about the parking hassles since we take you right to the curb for your departure flight.  Leave the frustration of traffic and waiting behind. You can always rely on us to provide comfortable and reliable transportation and shuttle services.  This Airport Transportation Service Charlotte and Airport Shuttle Charlotte is ideal for families going on vacation or parents traveling alone with kids or pets.  Your driver will assist you with loading and unloading your entire luggage.  Yes, we can even make a stop at your favorite coffee shop on the way like Starbucks, Caribou or your local neighborhood stop like Laurel Market. Finally, upon your return, we will have a professionally dressed driver waiting for you with a printed name sign for you. We'll help you locate and load your luggage and get you straight to the car and no lines when leaving airport through our commercial lane access. You can also count on us, even before we arrive at the Charlotte Airport, to begin tracking the flight one hour prior to your scheduled arrival time. Ballantyne Chauffeured Transportation is proud of the Limo Charlotte Transportation service that we offer our clients and we take the same approach with Airport Transportation Service Charlotte and Airport Shuttle Service Charlotte.  We are able to accommodate any size group.  We also have newest fleet of vehicles in town including Executive Town cars, 2011  Chevy Suburban LTZ SUV, Lincoln and Hummer Limos, Limo Mini Bus Limo,Mini and Coach Buses.  We are the choice Airport Transportation Charlotte provider for many of Charlotte's top executives, Fortune 500 companies, Celebrities, and Corporate Groups.  Let Ballantyne Chauffeured Transportation take care of your next Charlotte Airport Transportation and see for yourself what separates us from the rest! Airport Transportation Service Charlotte & Airport Shuttle Service Charlotte Prices 4 Passenger Town Car – Starting at $50.00 7 Passenger 2011 Chevy Suburban LTZ – Starting at $65.00 10 Passenger Black Lincoln Limo – Starting at $175.00 10 Passenger White Lincoln Limo – Starting at $175.00 18-20Passenger White Hummer Limo – Starting at $205.00 24 Passenger Limo Mini Bus – Starting at $175.00 Prices DO NOT include driver gratuity, taxes/fees. When you reserve your airport transportation through Ballantyne Limousine, you have the option to pay by cash or any of the major credit cards. Remember to make your return reservation, so we will monitor your flight and have your car waiting for you at the airport. We are always open to your suggestions to better serve your needs. Please do not hesitate to contact us to share your concerns and suggestions. Have a safe trip and enjoy Charlotte with Ballantyne Limousine! To reserve an airport limo or airport transportation , please give us a call at  :                                                 704-544-2269.
Need a Limo for your Next Adventure? 
 What Customers Say About Us
Couldn't have been more pleased with the entire experience. From my first inquiry, to booking to arrival time, departure and everything in between. Emil was knowledgeable, extremely responsive, detailed and delivered on exactly what he promised. And our driver was the same. Great, great experience. Made my wife's 40th birthday a very memorable night!

I used Ballantyne limo for my company party . Corey took us to a winery for my company party. He took great care of us and made the day relaxing and enjoyable! Recommended !!

Great company!!!! We got a limo as a special treat for my daughter and the whole experience was awesome! Beautiful car and wonderful driver. The girls had an adventure they will never forget!

We had a bachelor's party for my brother and it was chaos. Since day one I was very pleased with the customer service of this company. You can tell they really care. Most of our plans were made up on the spot and a lot of it had fallen through. We had a mix up in the scheduling and the owner personally picked us up in a limo to take us around town. He was very accommodating and extremely professional. I never give reviews on anything I do but this company merits one. I would recommend them to all friends and family.

I called 2 other Limo Services and was not satisfied with the service or no service before I found Ballantyne. They are very easy to do business and the Limo Service for my family on My Daughter's Wedding Day was Exceptional. Corey was the Limo Drive and We all loved him. Very Professional, Personal and a pleasure to work with. We will call Ballantyne for our next event and also ask for Corey.

Absolutely satisfied with the service! Loved the hummer H2 stretch limo and the driver was amazing! I also liked the fact that they were punctual, which is not easy to find. I am definitely calling this company again next time I need a limousine service. Thank you Ballantyne Limo!